THE GIRLS OF SUMMER - RELEASE RADAR
We're well aware of the fact that summer 2017 has been pretty jam-packed with new music thus far. We've compiled 'The Girls of Summer' as a way to help compartmentalize and preview some of that new music as to relinquish any sort of overwhelmed sentiments.
The beauty of music streaming sites is that when new music drops, you have immediate and uninhibited access, but the slight downside is perhaps not knowing where to start. Alas, below you will find my personal commentary regarding my favorite releases of the summer so far, and if you like what you read, go from there.
A Spotify playlist with the featured releases and a few more not mentioned on this post is linked HERE !
This release was highly anticipated, as it's been four long years since the drop of Lorde's debut album, Pure Heroine. Pure heroine is an album that I would still describe as one "where I never skip the songs if they come on shuffle". It's somehow downright dreary and yet absolutely affable all at the same time. Melodrama nods to that dark Pure Heroine style but wraps it in plastic and serves it up with synth.
The songs on Melodrama go through the feelings and thoughts people experience when amid a breakup as well as those experienced while dealing with certain youthful conflicts of culture. The breakup topic is risky for songwriters, because it's so easy to create a song that could be perceived as cheesy or cliché, but each lyric on this album seems so carefully and particularly chosen to create the most sincere and specific images. Songs that focus on the mundane simplicities of dating contrasted with the melodramatic intricacies that can follow separation.
Jack Antonoff produced this album, and you can hear his personal style in the ever-present eighties-cinematic-pop sounds that he's no stranger to. This style particularly shines through in songs like Hard Feelings/Loveless and The Louvre, which is a song that concludes with the sonic equivalent of walking off into the sunset. Piano riffs appear in songs like Green Light and Supercut that I can describe in no other way than "Bowie-esque". The Melodrama sound is robust and effective and a well-deserved triumph for Lorde and her fans. we luv it sm.
CTRL - SZA
SZA has been proving her potential since she signed to Top Dawg Entertainment in 2013 and released her album Z in 2014. While Z was beautiful and boasted features by Chance and Kendrick, it lacked the proper packaging fit to make it a hit. While Z lingered, SZA crept up on the mainstream, featuring on songs with Schoolboy Q, DRAM, and Rihanna. She proved her worthiness and persistence, then hit us with a cherry on top, Love Galore.
Love Galore, her single with Travis Scott illustrates her undying ability to attack vicious vocal runs with ease. This song was a fitting introduction to the album, initiating the distorted and muffled leitmotif of Ctrl, sounds which complement her plush and placid vocals. Ctrl is strewn with effortless runs and delicate traces of dated digital augmentations. It is a fluttering anthem to the power of a woman and the elusiveness of self-security, an issue which SZA has been very open about struggling with in the past. It is a gleaming manifestation of an amazing songwriter getting her day in the sun. shine on bbygurl xo.
SOMETHING TO TELL YOU - HAIM
Haim fans rejoice, they are so, so back. Their last album, Days Are Gone was released four years ago and we've been like, waiting. Alas, it seems they've ridden the festival-unit wave as long as they could before they had to sit down long enough to record at least three new singles, Want You Back, Right Now, and Little of Your Love.
Right off the bat Want You Back revisits that spastic percussive sound that they came on the scene with in 2012 with Forever. The overall sound is hopeful and the chorus provides a bounce that can only be achieved by the combination of Este Haim's bass expertise and Ariel Rechtshaid's production quality. Right Now is glowing and gradual, and leads the listener through sparkling synths and bold vocals. Little of Your Love brings a few new sounds to the party, honestly though, maybe a few too many. This song immediately alludes to the classic doo-wop sound, but also incorporates a very country-esque riff in the chorus which leaves me confused, but not completely turned off by it. The song is rectified by the glimmering harmonies of this sis trio.
The vocal styles on these tracks are consistent with those in Days Are Gone, but the almost over-production and use of synthesizers and artificial sounds are just below off-putting. All in all, though, these songs are a strong re-entry into my Spotify playlists for Haim, at the very least. Full album Something to Tell You out 7/7/17.
H.E.R. VOLUME 2 - H.E.R
H.E.R. has chosen to keep her personal identity anonymous. Despite being undetectable by facial or nominal recognition, she stands out with her incredibly mature vocal style, especially for being only nineteen years old. It's said when you eat in the dark or with your eyes closed, your sense of taste is heightened, perhaps this is the same idea. When you have no true picture or visual idea of the artist, all there is to focus on is her sound.
In this era of music, so much of an artist's success is based on their image, their branding, or their personal style. It's refreshing to see this bold, young artist trust in her talent enough to so blatantly disregard those superficial attributes that are widely encouraged by listeners and industry folk alike.
This album breathes heat within the first few seconds of its play time. The warm tones set by the earnest guitar progression in Every Kind of Way are simple and lead the listener into the album appropriately. This album is simple, not in a way that sounds replaceable, but in a way that simply makes sense. Every added sound and instrumental is so subtly fitting. H.E.R. Volume 2 is gentle and winding. If your intrigue is amplified and you want to see her for yourself, she'll be opening for Bryson Tiller on his upcoming Set It Off tour.
I USED TO SPEND SO MUCH TIME ALONE - CHASTITY BELT
It's been two years since Chastity Belt's last album, Time to Go Home was released, and with that we welcome I Used to Spend So Much Time Alone with open arms. The beach sounds relayed on this album feel familiar and earnest. Perfectly tempered indie guitar strums supplement the coarse vocals by frontwoman Julia Shapiro. It is a patchwork of sounds that seemingly melt together in the summer heat. I Used to Spend So Much Time Alone provides the perfect sounds for sitting in stagnant sunlight.
The four women who make up Chastity Belt are best friends, and work hard to create music that is vulnerable and honest, whilst sprinkling their albums with tracks laced in irony and humor. They're comfortable with themselves, and their music is a testament to that laid-back confidence, and is definitely worth a listen this summer, soak It up.
CHECK OUT / FOLLOW AVERI'S PLAYLIST HERE:
I'm Anna! I live in the very cool city of Dallas, TX and am looking forward to working with this cute, cute team of people. I care a lot about music and the culture that surrounds it, and am excited to have an excuse to write about such things. Here's to hoping I am able to write things worth reading and sharing.
instagram: @acmontie
snapchat: acmontie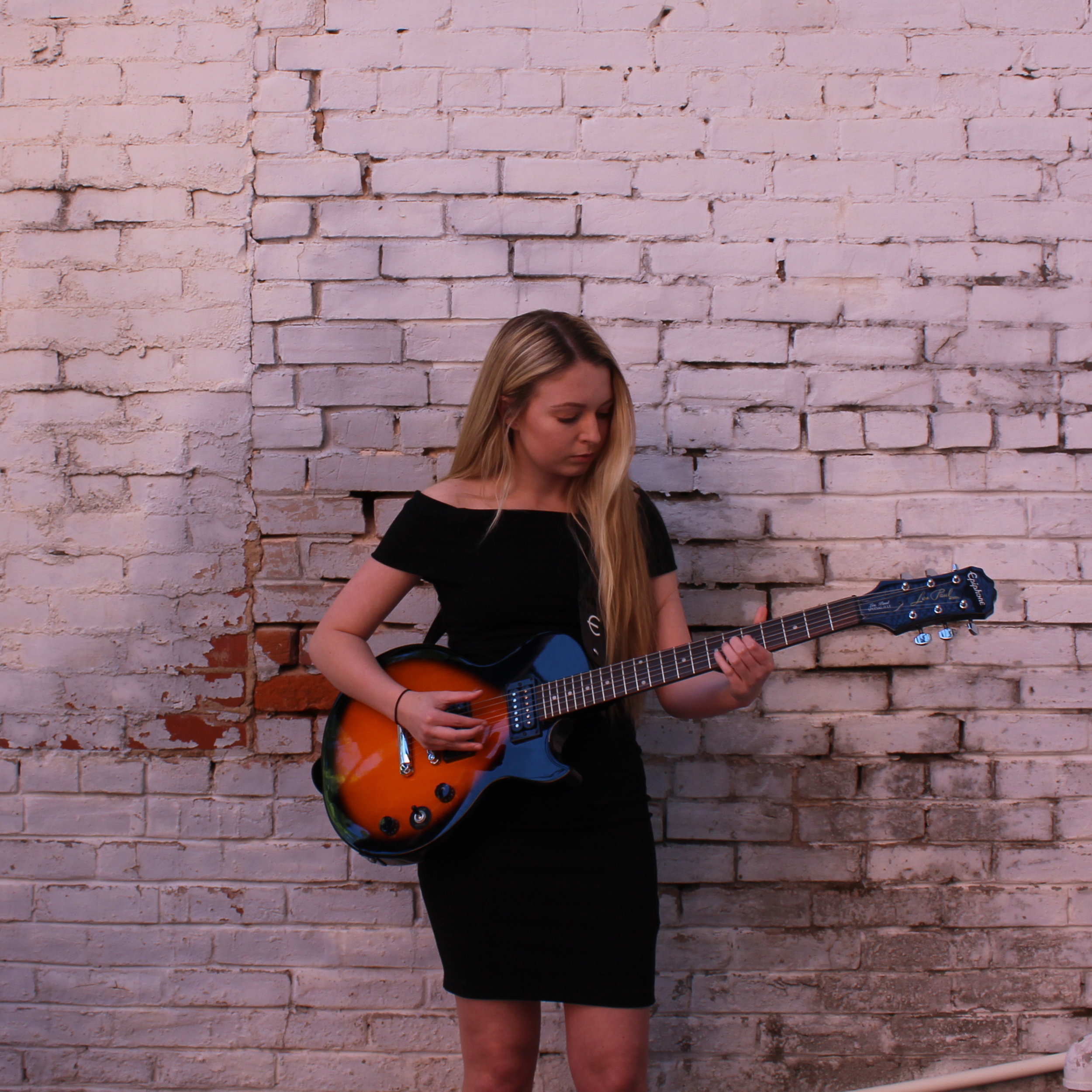 Averi is a member of the Gold Hand Creative Team
Averi Campbell is an art student, multi-musician, and all around music enthusiast. Any indie garage band or badass girl band puts her in a daze, and that sound has carried over into the music she creates herself. Music and art have played a huge role in her life and she is very fortunate to have encountered so many fearless and driven women, both in the arts and music industry, all which have impacted the woman and artist she is today.
Instagram: @avepcam