GOLD HAND TAKES NYC'S GOV BALL 2017
Governors Ball 2017: NYC's Top Fest
The Governors Ball Music Festival takes place in New York City's Randall's
Island Park the first week of June. With a killer line up, giant art
installations, NYC's most popular food-stops, and three full days of endless
excitement, this year's fest made for an all-around incredible festival experience.
Just as the fest's slogan, "you're doing great," says, whether you were there for the
fashion, the food, the activities, or the music, they were all "doing great!"
M U S I C!
As you can tell by the line up, this festival featured artists and bands for all kinds of music lovers! Whether you'd prefer to join a mosh pit and crowd surf or just to sway to some indie vibes, there was always a band performing for you to enjoy. Despite having four stages blasting with music, Gov Ball did a great job of isolating each stage, keeping noise interference from other performers away and making each artist's show an individualized experience. What differentiated Gov Ball from other festival experiences, however, was how varied the genres were for each stage's lineup. People were forced to move from stage to stage seeing the shows they wanted, with audiences clearing out after each show allowing different festival-goers to snag front row spots throughout the day without the all-day wait. This really added to the experience for me, as I didn't have to sit at one stage the whole day just waiting for my favorite band.
The weekend was packed with captivating musicians, but I want to talk about a few of my favorite girl-power performers starting with...LORDE!!! Definitely the highlight of my festival! This girl does far more than just sing her songs; she creates a story through her performance, one of a young adult running through the motions of a party-filled social life but wanting something much more. Her show featured a giant moving glass box full of her insanely talented and beautiful back up dancers as well as a guest appearance by Jack Antonoff (Executive producer of Melodrama and member of Bleachers). The whirlwind of a show came to an incredible climax with Green Light, complete with fireworks, smoke bombs, and an all out dance party where Lorde encouraged her fans to just let go and go get what it is you're searching for. Her show was unforgettable, and her new album is just as amazing, so go listen if you somehow haven't yet!!
An unexpected festival fave of mine had to be MUNA, a dark-pop band originally from California. These girls looked straight out of The Craft and just might be the Hex Girls in real life. The members of this girl-power trio all proudly identify as queer, and their songs address important issues such as gender-identity, slut shaming, LGBTQ issues, and current political topics. They want the safety they feel to be themselves to resonate throughout their fan base, allowing fans to find comfort and confidence in their music. They'll be the opening act for Harry Styles' upcoming tour, so go check them out!
The festival was filled with other female-powerhouses: Kehlani and her dynamic vocals, Charli XCX's unapologetic attitude, Banks' unique sound, Tove Lo's flashy performance, and plenty of other talented gals.
Check out these beautiful people on Instagram: (from left to right)
Festival season means breaking out your hottest street style looks. As with any fest, denim cuttoffs and cropped tops dominated, but here are some of the other top trends I saw at Gov Ball:
· Gingham—who would've expected such a Little-House-on-the-Prairie-esque pattern to suddenly become the new style? Gingham crop tops, rompers, and a-line dresses ruled this fest.
· Fishnets—whether worn under a pair of ripped up boyfriend jeans or an oversized and comfy sweatshirt, fishnets were a go-to accessory.
· Denim—Shorts. Jackets. Shirts. Rompers. Chokers. Dresses. Skirts. Hats. Throw on a combo of at least three of these, and you've got yourself the all-denim festival look (great for the rainy days!)
· Loose Pants—Comfort is finally taking over the style game! Wide leg, loose trousers, track pants, and baggy jeans were a must have this weekend.
· Bandanas—Tie it around your neck, use it to keep your hair up, or wear it as a top! Probably the least expensive and most versatile accessory around!
· Sheer—the best way to show off your cutest bras! This 90s trend is back and only getting better.
· Sunglasses—If you would've loved them in the 5th grade, then you're probably good to wear them again! Fun shaped and colored sunglasses are a festival necessity!
· Jerseys—Where there are frat boys, there will be jerseys, and this festival had lots of both!
· Camo—Ladies, we are taking over this trend! Loose camo pants of all colors in particular caught my eye this weekend.
· Overalls—By far the most popular outfit of the festival! With so many ways to accessorize, overalls prove comfort and practicality can be fashionable too.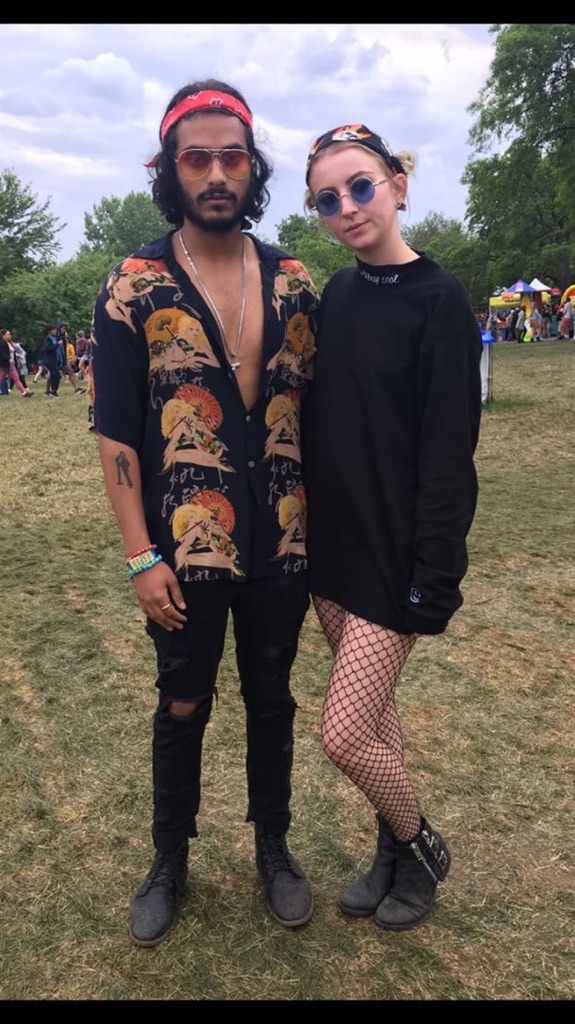 Food & Activities
Although I spent most of the fest maneuvering my way into front row spots, if you're looking for a more laid back, come-and-go festival experience, Gov Ball is perfect for you! With photo-booth stations, lawn games, lots of free snacks, and a full mini golf course, there was never a dull moment at this fest. Not to mention all the incredible food vendors they had like DO, Momofuku Milk Bar, Taiyaki NYC, and Wowfulls! Was everything overpriced? Yes, but hey! It's NYC, and the wait for these sweet treats was hours less at the festival than in their actual home-based locations.
Overall, Governors Ball was a well run and incredibly fun festival, one to which I definitely hope to return. I will say that the overwhelming majority of festival-goers did appear to be NYC teens, which was a bit unexpected, but everyone I met was kind and carefree; it really was a laid back festival. I'm not sure why Governors Ball doesn't get the kind of coverage Coachella or Bonnaroo have, but it definitely makes it easier to snag great spots to your favorite bands!
If this sounds like the fest for you, you're in luck, because Founders Entertainment, an NYC festival promotion company, is producing another festival this September—The Meadows Music & Arts Festival! I hope to see you there!